An exciting new development is now available here for you!
You're buying non-steam privileges and this will require your IP address. (
Click here to buy VIP for Steam Counter Strike)
Purchase V.I.P Privileges
This plugin is made, to give special abilities to player, and make his gaming more easier. You can sell these privileges for players, or give it to a spacial people on server.
The base plugin. Thease functions is always working, mo meter what mode are you using.
* It gives extra ammo packs for killing zombies/players.
* Extra health for infecting(for zombies only).
* Extra packs for infecting.
* Humans grains extra armor every round.
* Shows VIP's in the score bar.
* Gives for VIP's unlimited clip.
* Vips gets a Multi-Jump
* Writing a message, when VIP player is connecting to server.
* VIP will be shown on /vips list
* Ammo packs for damage dealt.
Pictures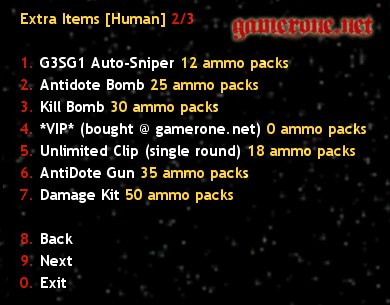 Rules & Legal Agreement
We reserve the right to modify the *VIP* plugin without notice and are subject to change with server improvement.
You don't get a refund under any circumstances even if you break the server rules and get perm banned.
You are buying intellectual property which lasts you 31 days (1 month) and no longer, if you want it again you must purchase. You accept the terms given by purchasing your VIP.
Commands: /vip (show VIP's info) /vips (show VIP's online) /vm (show VIP's menu)
Buy Through PayPal
How do I find my IP Address?
Click here to see yours
.
If you can't see the buy button below
click here to learn how you enable html
.
Was: 15
Now: 10 Euros for 31 Days of VIP
Post a reply once you have purchased, we can verify payment and You will be contacted in 24 hours.
// gamerone
Similar topics
---
Permissions in this forum:
You
cannot
reply to topics in this forum